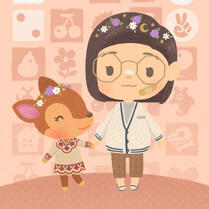 Moonacre
Resident Rep. Mish
---
Welcome to Moonacre, an ever-evolving, fun-filled kidcore forest island.
➳ DA-6552-7939-9130 𖣰´-
Tag me! #visitmoonacre
Join my cosy Discord server. Members get access to a wonderful community, shared turnip prices, all of my current Custom Design codes, weekly island parties, and priority access to NPC visits and DIY and item trades.
About Moonacre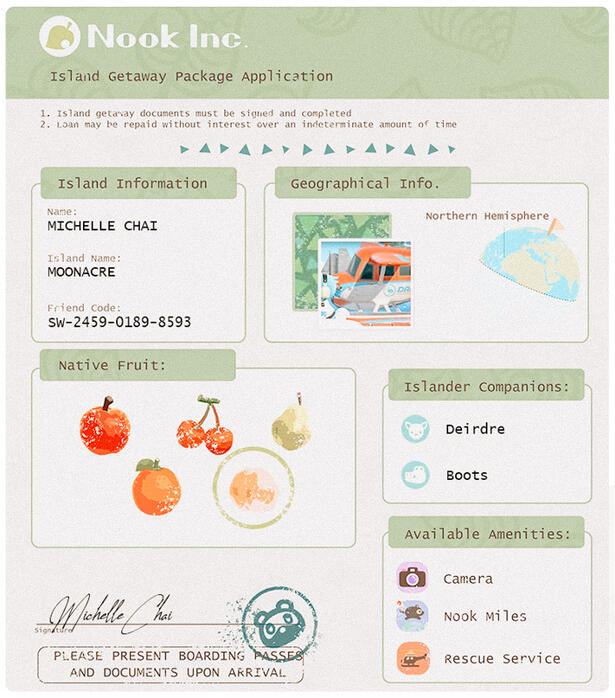 Floating atop a glistening gem-like ocean in the Northern Hemisphere lies Moonacre, a curiously colourful island where civilisation has planted its roots. What was once an untouched forest – wild with flowers and nature; abundant in magical corners and winding waterfalls – has blossomed into a fun-filled playground for Mish's best villager friends. Run amok through cosy winding trails, stay up late at the outdoor cinema, play pranks on Gonzo, win prizes every time, and build your very own bear to take home.

There's always a cosy, magic-touched nook to be found and settled into, on Moonacre.
Moonacre Trivia
I started playing Animal Crossing in 2006, beginning with Wild World, then New Leaf, Pocket Camp and now New Horizons. I still occasionally play New Leaf!

I was a Nintendo-partnered content creator for the launch of Animal Crossing: New Leaf. It was so much fun, and easily a career high for me. Sadly I deleted my old AC community handles a few years ago.

For the most part, I don't time travel to farm NPCs or DIYs. I'm an old soul who really truly enjoys the slow living aspect of the game series, discovering new things and experiencing weather changes daily.

Moonacre doesn't strictly follow a theme. Whilst I say 'kidcore forest', that's just a loose guide of what to expect. My villagers aren't themed either; the residents are all villagers that I love spending time with. I chose them to experience Moonacre with me.